by Rafika Nurulhuda
Dear PPIers,
How is your summer holiday? Have you visited Klagenfurt yet?

Wörthersee View from Pyramidenkogel
The full name of this city is actually Klagenfurt am Wörthersee, even though it is commonly referred to as simply Klagenfurt. With an area of 120,1 km² and population of only around 97,000, Klagenfurt is the capital city of the southern region of Austria called Kärnten or Carinthia. Carinthia, I suppose, is one of the main destinations for the summer vacation in Austria. This is not only due to its famous alpine lake Wörthersee, but also because of various other activities that you can enjoy doing in nature.

The hotel prices might be somewhat expensive but Klagenfurt is a fun place to refresh your mind during summer and there are two students who are willing to offer you a space in their wohnung :D (*poke mbak Ika*)
Don't say you have been to Klagenfurt if you have not been to Strandbad. It can be said to be the main site tourists go to in summer.
From children to elderly, hundreds of people come here to swim, enjoy the sun or just relax and sleep under a tree :p You do have to pay an entrance fee, but the price decreases as the day passes.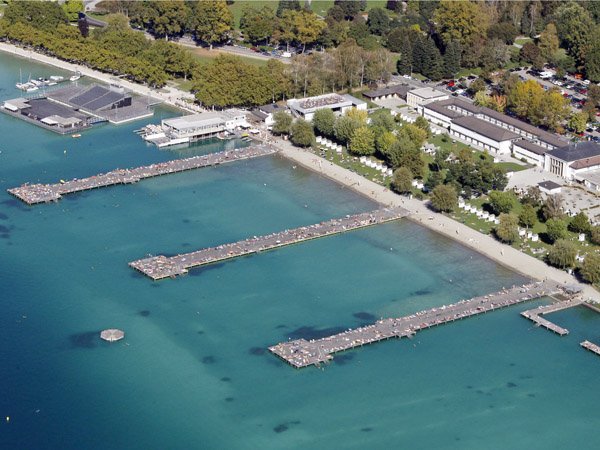 Klagenfurt-Sport.at
-Rental Bike: 1 hour: EUR 5, 1 day: EUR 12-15 (dont forget to bring your ID or passport). The bike rental store is located at the entrance to the camping site.
2. Bike around Wörthersee:
There is a bike path to go around the lake which is around 20 km. I
myself have never succeeded to bike around it because I get tired and decide to go back, hehe. I have only managed to reach Portschach.
Bike path around the lake
There is minigolf in Krumpendorf with two different courses on offer (18 holes for €3,50 or 12 holes for €3,00) if you want to rest for a while.
Besides biking around the lake, there are also bike paths around the city. There are maps and signs that show the paths at almost every corner in the street.
Bike path around the city
The signs for bike paths and directions
4. Wörthersee view from Pyramidenkogel:
Pyramidenkogel is a tower built of wood and steel said the highest

wooden Observation Tower in the world (100 metres) located in a mountain south of the Wörthersee.
Pyramidenkogel Tower
You can buy a CombiTicket in the Postbus going to the Pyramidenkogel which costs EUR 16. It includes the bus directly to, and also back from, Pyramidenkogel, entrance to the tower with usage of the lift included (usual price for adults is EUR 11 and student EUR 8), and one boat trip back to Klagenfurt/Strandbad from Reifnitz. (The extra cost if you want to slide down from the Tower is EUR 4.)
View of Wörthersee
The area around the Pyramidenkogel is also great for hiking and mountain biking. There are several marked hiking paths you can choose from and since you are walking through wooded areas you wont be affected by strong sun too much.
From Pyramidenkogel, I hiked down towards the Reifnitz boat station and it took me around 2 hours to finish the 5,4 km. Don't be afraid to get lost because you will-no I mean, there will be signs in the forest and it is very easy to follow. Also, don't forget to check the boat schedule from Reifnitz.
In English, it is called Summer Toboggan Run. To reach it in Kaernten may be a bit far and time consuming, especially if you rely on Kaernten Linien Bus. But if you have a car, you can visit a smaller lake called Klopeiner See and during your trip there, you can stop by for awhile to try the ride in the area called Ebendorf.
It is somewhat similar to the rollercoaster in an amusement park but the difference is that the track leads you around the forest, thus it feels more adventurous. Plus, there is a break that you can use to make it slower (unlike the scary rides in the amusement park). For adults, it costs EUR 7 and for children, it costs EUR 5,50.
This is another activity you could do in Strandbad. Beside the slides , there is a booth to register for stand up paddling. You could also bring your child with you to sit in the front. You don't need to bring a vest for your child because they will provide you one. There is a map near the booth to show you where you could paddle in the lake and how long it would take to go to the location.
You can rest for a while and dip yourself in the lake. Trust me, it's worth the try.
Tips: bring a water proof camera if you have one or bring your pocket camera or handphone and put it in a small bag (but make sure you don't fall!). Also don't forget to bring your watch to check when to get back.
If you plan to visit Klagenfurt with your children, you also don't want miss out on Minimundus and Reptil Zoo. Minimundus is a miniature park near the Strandbad that displays 100 miniatures from around the world.
So, before summer is gone, you have to see the beautiful Klagenfurt!
P.S. if you have any questions regarding Klagenfurt (busses, schedules, etc), you can email me at rafika089@gmail.com.